Every day, Tim bares his chest and Leslie kills him.
Leslie's mom is in the hospital, so she seeks distraction in her dad's garage, devising a monster play for kids. Tim plays the monster as she wields a wooden sword, while a Trio of silent clowns create a magical world from found objects.
When an old college love appears, a three-way romantic triangle takes shape through swords and masks and monsters. In a dreamlike space where everybody wears a mask, Tim and Leslie eventually learn the real world never really goes away.
This play was developed using New Vaudeville clowning, commedia and dance. The mask work and physicality invite ensembles to explore the script's movement and storytelling through a range of ethnic or historical traditions.
. . .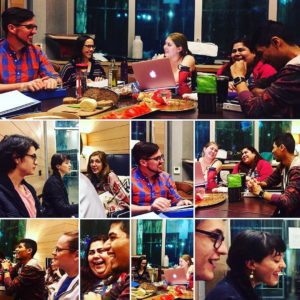 Trio premiered April 26-May 6, 2018 at Austin TX's bold new Filigree Theatre.
With Chelsea Beth, Ben Gibson, Ethan Cannon, Eva McQuade, Andrew Rodriguez and Marci Blackwell. Directed by the wonderful Elizabeth V. Newman, sound design by Eliot Fisher, set design by Chris Conard, costume design by Keli Pollarine, fight choreography by Adam Miller-Batteau, mime and physical theatre choreography by Amelia Turner. Stage manager Jennifer Sturley, assistant stage manager Duval Romero and producer Stephanie Moore.
You can read about Trio on the Creative Pinellas blog:
April 27. . . Trio in Austin, Perception Shift
May 4. . . Trio in Austin, Duck and Burlesque
photos of Trio onstage in Austin are by Steve Rogers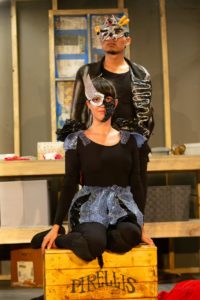 . . .
. . .
Choreographer Paula Kramer – Photo by Tom Kramer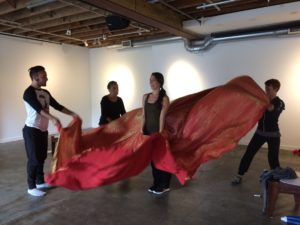 Grateful to receive a grant from the St. Petersburg Arts Alliance to workshop Trio this summer at The Studio@620 in St. Petersburg with fabulous actors and dancers, winding up with a staged reading at The Studio@620 in St. Petersburg on August 22, 2017. With Becca McCoy, Derrick Phillips and Chris Rutherford, and dancers Helen Hansen French, Crystal DelGiudice and Sean McDonald. Directed by Elizabeth Brincklow, choreographed by Paula Kramer, with spectacular deaths and swordplay by fight director Dan Granke. A staged reading was held for a full house on August 22, 2017 at The Studio@620 in St. Petersburg.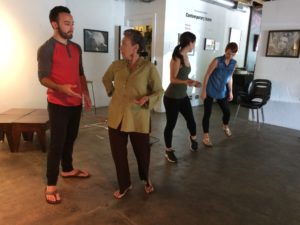 Trio received a reading with New York's Athena Theatre at the Dramatists Guild Fund on June 24, 2015. With Esther Chen, Veronique Ory, Ryan Spahn and Matt Swanston. Semi-finalist for the Sundance Theatre Lab 2016. Semi-Finalist, March Forth Productions, Brooklyn, Summer Reading Series 2015.
Many thanks to Aaron Johnson of La Fenice, Austin TX's commedia dell'arte troupe, filmmaker-clown-and-children's performer Banks Helfrich, Robin Gordon, choreographer Paula Kramer, dance photographer Tom Kramer, dramaturges Alice Austen of Chicago Dramatists and C. David Frankel of Tampa Repertory Theatre.
And in particular, huge thanks to USF Professor of Masks, Stage Combat, Movement and Acting Dan Granke, who believed wholeheartedly in the three silent clowns and helped the script embrace them.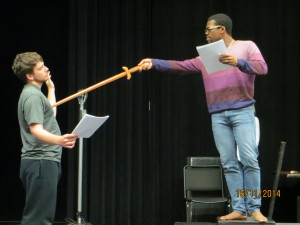 Trio had a reading in St Petersburg on March 15, 2015 with Dan Granke as Tim, Jim Wicker as Fletcher and Eugenie Bondurant as Leslie – with Jim Rayfield on stage directions and movement by Dan Granke's USF students, Evan Causey, Stephanie Klesius, Jenna Pearson and Adam Seacord. Thank you to Aaron Johnson of La Fenice, dramaturg David Frankel, Paul Wilborn, Martin Daughtry, Elizabeth Brincklow, Tom and Paula Kramer, Rich and Mimi Rice, Banks Helfrich and Victoria Dym for feedback – and to dramaturg Alice Austen of Chicago Dramatists for feedback on this draft .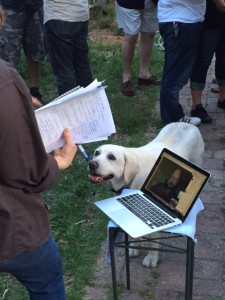 Many thanks to Dan Granke's Mask students, who explored directed scenes with Masks and movement November 15-16, 2014 at the University of South Florida. With Ryan Childs, Taylor Cooper, Peyton Geftman, Stephanie Klesius, Thomas Morgan, Adam Seacord and Amanda Zappia. Much appreciation to Marc Powers and Yao Chen of the USF School of Theatre and Dance and Aaron Johnson of La Fenice Austin.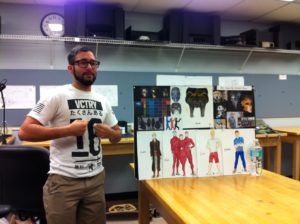 Thanks to Yao Chen's advanced Costume Design class Spring 2014 at the University of South Florida, and to Christopher Burgos, Bailee Booser, Brittany Reuther and Kyah Cooley, who created designs to develop the look of The Trio and the Monster masks.
And thanks to C. David Frankel's Staged Reading class for workshopping the script June 9-13, 2014 with Taylor Cooper, Emily DeRoma, Jennifer Fuller, Carlos Garcia, Kate Hayman, Paul Pullen, Jessica Schoenfeld and Adam Seacord.
Scenes from Trio were workshopped in C. David Frankel's class at the University of South Florida, June 15-19, 2015. With Andrea Carlson, Brianna Lynn Filippelli, Amy LaPorta, Vanessa M. Watson, Erica Zephir and Kristen Zur.
A version of this script had a table reading in Tampa on May 8, 2013. With Eugenie Bondurant, Chris Rutherford, Jim Wicker and Dave Waterman.
Trio had a first reading at the Stagewrights Playwriting Group, part of Stageworks Theatre in Tampa, on May 24, 2011. With Eugenie Bondurant, Ed Stevens, Jim Wicker and Matthew Cowley. A later version of this script received dramaturgy from Alice Austen of the Chicago Dramatists Network.