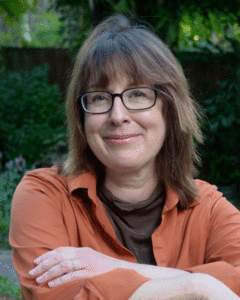 I create performance works that celebrate words, movement, visuals and sound – 
telling stories that inspire you to look up and look sideways, to reach out and embrace this complicated world
My plays focus on shifting gender roles and new definitions of family and identity.
I write stories rich in humor and humanity, that celebrate imagination and bursting boundaries.
I thrive on the energy of collaboration. I lead the Sparks Collaborative Ensemble – working with actors, dancers, sound and visual artists to create performances where words shift and grow, and fire everyone's invention. A performance starts with the spark of a script and becomes a living work that everybody has a hand in and none of us could have imagined alone. 
At a time when everything is labeled, it's vital to me that my plays embrace diverse casting. And wherever I can, I create characters open to actors of any gender and a range of ages. One of my short plays has been performed by two men in their 40s, by two college-age women and two non-binary actors – and each pair made it real. 
2018 Literary Muse – St. Pete Arts Alliance
As an award-winning audio editor, Sheila Cowley has produced audio tours for the Salvador Dalí Museum, the James Museum and Selby Gardens. . . the improvised comedy series Offramp. . . the Arts In podcast series for Creative Pinellas. . . and visually-descriptive audio tours of the SHINE Mural Festival for the St. Petersburg Arts Alliance. 
Dramatists Guild
New Play Exchange 
Association of Independents in Radio