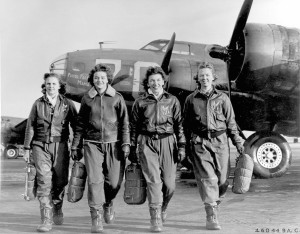 Susan flew military planes in WWII, so men could go and fight. Now she's been sent home to get back to normal, while the town waits for her local hero husband to come home.
Flying looks at life propelled by stories, as the town tells glory tales of Bob and Susan tries to put away her memories of flying.
Susan uses Bob's legend to keep his family airfield going, so when his wounded gunner shows up looking for a job, she's forced to hire him. Fisher struggles with an artificial leg and an airfield run by women, as the stories of the town reveal Susan through what they leave out.
The background of this play is drawn from oral histories and memoirs of women who served in the WASP program in WWII. It explores the aftermath of war and the quiet, daily acts of heroism that never earn a medal.
The Historic Rialto Theatre
Loveland CO
July 30-August 7, 2021
Moon Theatre Company
After a wonderful immersive performance in an airplane hanger this spring with an actual Super Jenny cropduster onstage, Colorado's Moon Theatre Company remounted Flying at the historic Rialto Theatre – with 1940s engine parts, a propeller and tools onstage. And thanks to the area's Commemorative Air Force group, a 1943 Beechcraft (just like one mentioned in the script) will buzz over the Rialto Theater on opening night as the audience arrives. 
Directed by Kathleen Gruman and Pamela Strahan, with Elizabeth Lietaert, Brian Dowling, Maris Westrum, Kim Bubon and Earl Fashbaugh.
An Immersive Performance
in an Actual Airplane Hangar
April 30-May 15, 2021
Moon Theatre Company, Boulder CO
Boulder Municipal Airport
Cheers to Colorado's Moon Theatre Company for creating an immersive site-specific production of Flying performed in an airplane hanger with an actual Super Jenny cropduster that in the script is just imagined offstage.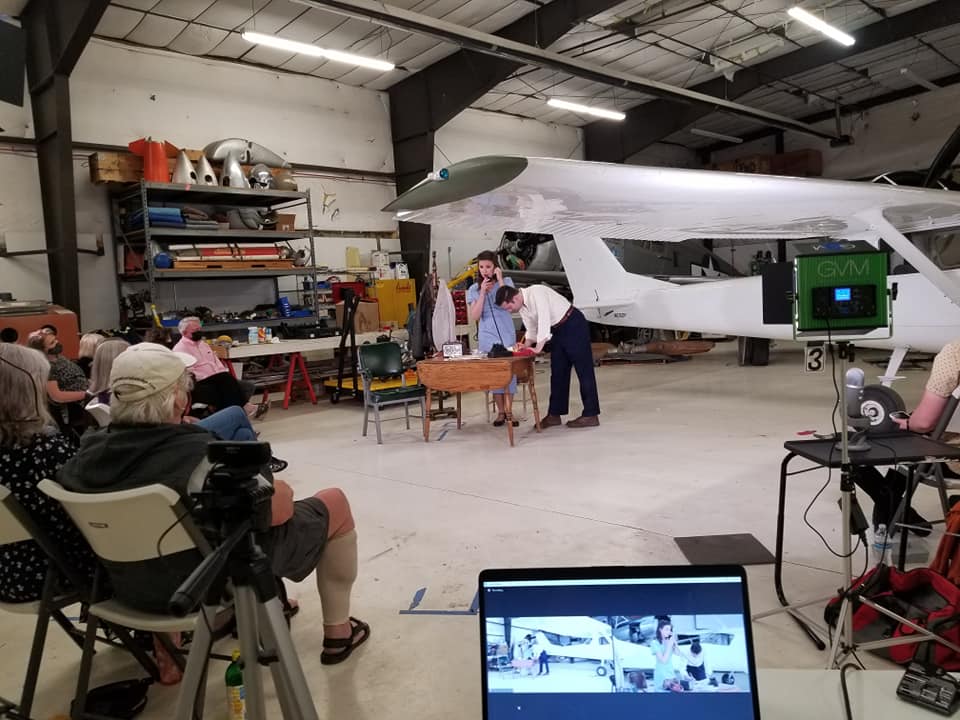 Socially-distant performances took place at the Boulder Municipal Airport – plus a 4-camera livestream on Zoom. Hats off to director Theron La Fountain for this inspired plan, with Elizabel Riggs as Susan, Soleil Kohl as Lucy, Kim Bubon as Laura, Avery Martinez as Fisher and Earl Fahsbaugh as Doc. 
Sunday, August 16, 2021 at 3 pm
Tampa Repertory Theatre
Online via Zoom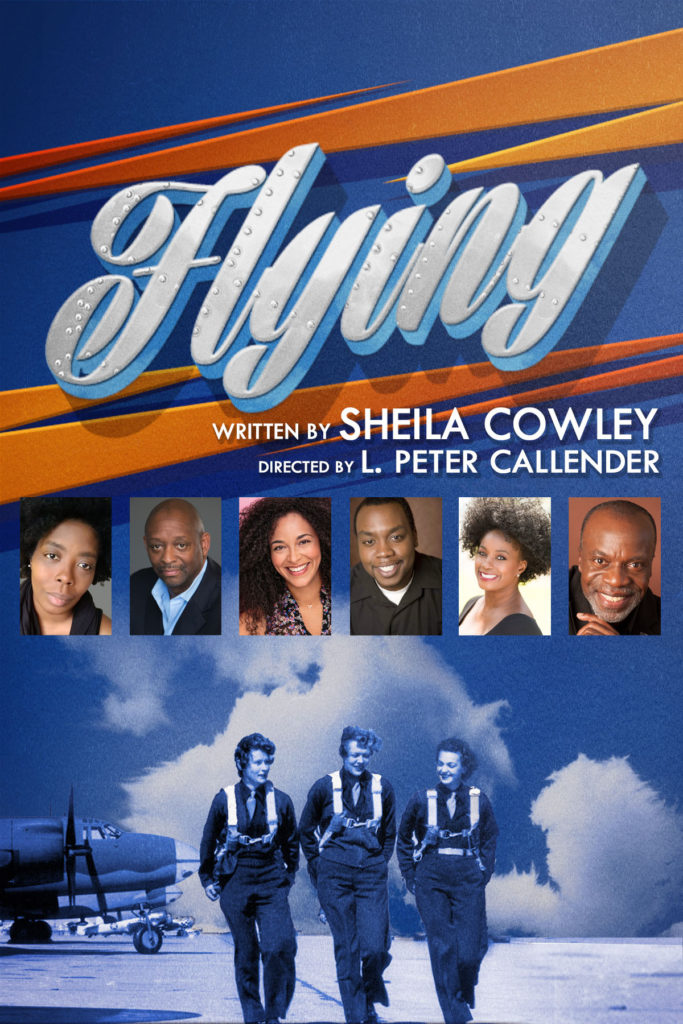 An online performance by Tampa Repertory Theatre, directed by L. Peter Callender of the African American Shakespeare Company. With Renata Eastlick, Andresia Moseley, Stephanie Roberts, Enoch Armando King and Michael Asberry. Production design by Jim Sorenson, sound design by Matt Cowley. Stage manager Amanda LaForge, assistant stage manager Jasmine Arroyo. Artistic director of Tampa Rep, Emilia Sargent. Kind thanks to American Stage for the loan of costumes.
This play was written from the start for diverse casting, knowing that's historically inaccurate. But I never want to write a play that only white actors can be in.
Black and Latinx actors have performed beautifully in readings in NYC, Chicago, Austin and Tampa. This marks the first time the entire cast was beautifully played by actors of color. tamparep.org/flying2020.
February 14-29, 2020
PYGmalion Productions, Salt Lake City UT
The Rose Performing Arts Center
Cheers to wonderful, heartfelt and witty production February 14-29, 2020 thanks to the creative team of PYGmalion Productions in Salt Lake City, a National New Play Network member theater. 
With Nicole Finney, Carlie Young, Lori Rees, Calbert Beck and Andrew Maizner. Directed by Teresa Sanderson, Artistic Director Fran Pruyn. 
Many thanks to Creative Loafing for honoring Flying with 2018 Critics' Choice Best of the Bay Awards for the script and for actors Becca McCoy and Justin Smith.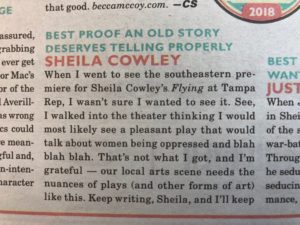 Many thanks to Creative Loafing Tampa for naming Flying's Tampa-St Pete production as one of The 10 Best Arts, Culture and Entertainment-y Things of 2017.
And thank you to Julie Garisto and Creative Pinellas for including Flying on "2017 Best in Shows – A Year of Collaboration" – a pretty incredible list of visual, literary and performing arts events in our home county.
A lovely reading of Flying at NYC's Urban Stages on July 25, 2018 as part of their Summer Reading Series. Directed by Melissa Skirboll, with Mariel Matero, Bernadette Drayton, Taylor Graves, Serge Thony and Kim Allen. Many thanks to artistic director Frances Wyatt Hill and Development & Literary Director Antoinette Mullins for the kind invitation.
Honored that Flying is one of 5 Finalists for Marin Theatre Company's David Calicchio Emerging American Playwright Prize 2018, out of over 500 submissions. And a finalist for Theatre Conspiracy's 2018 New Play Contest, out of 600 submissions.
*  *  *
So glad that Flying's production by Tampa Repertory Theatre was a hit with audiences in Tampa and St. Petersburg FL, at HCC Ybor's beautiful Performing Arts Center and The Studio@620, September 21-October 7, 2017.
Directed by Robin Gordon, artistic director C. David Frankel and the wonderful cast of Becca McCoy, Justin Smith, Rosemary Orlando, Holly Marie Weber and Joseph Parra. Set design by Allen Loyd, lighting design by Jo Averill-Snell, sound design by Matt Cowley and costume design by Connie Lamarca-Frankel, with dramaturg Becca McCoy and stage manager Cat Carter.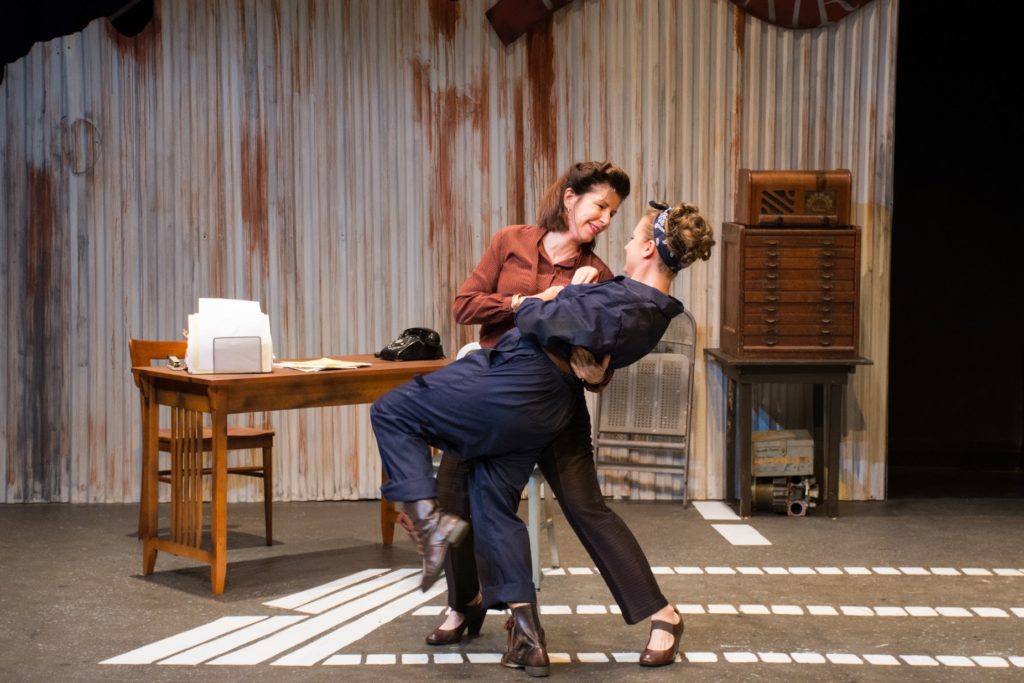 Flying received its Equity premiere at Chenango River Theatre in Greene NY, May 26-June 18. With Katie Zaffrann as Susan, Zac Chastain as Fisher, Heidi Weeks as Laura, Annie Winneg as Lucy and Jim Wicker as Doc. Directed by Drew Kahl, artistic director Bill Lelbach.
It's an honor that Flying is the national runner-up for the Todd McNerney Playwriting Award at the College of Charleston, and part of the Piccolo Spoleto Festival in Charleston SC, with staged readings on May 31 and June 1, 2017. With Haydn Haring, Nathan Cooper, Jenny Bettke, Joy Vandervort-Cobb and Brent Laing, directed by Todd McNerney.
Flying was a Featured Finalist in American Blues Theatre's Blue Ink Festival on May 23, 2017 in Chicago. With Lisa Herceg, Ian Paul Custer, Jazmín Corona, Patricia Patton and John Mohrlein, directed by Heather Meyers, artistic director Gwendolyn Whiteside. Thrilled to be in the fine company of Caridad Svich, Idris Goodwin and Rebecca Gorman O'Neill.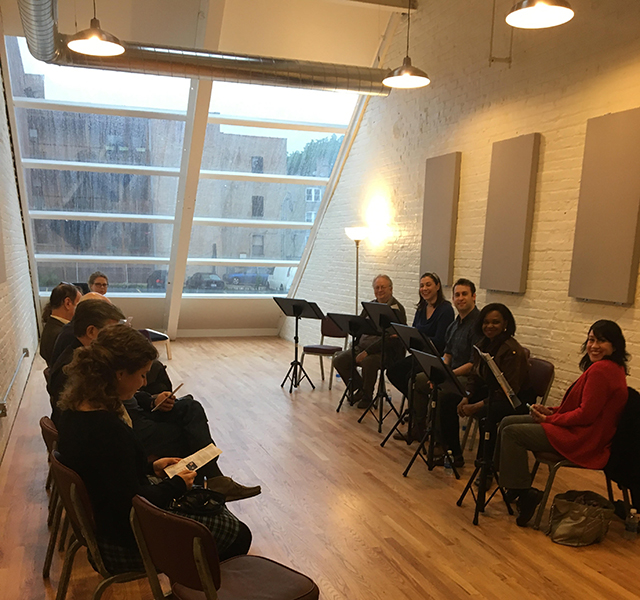 Flying was featured in the Austin Playhouse's Festival of New American Plays, May 7, 2017 in Austin TX. With Babs George, Jason Newman, Tom Parker, Gricelda Silva and Lara Toner, directed by Ben Wolfe. Honored to be selected as one of three scripts chosen from 700 submissions.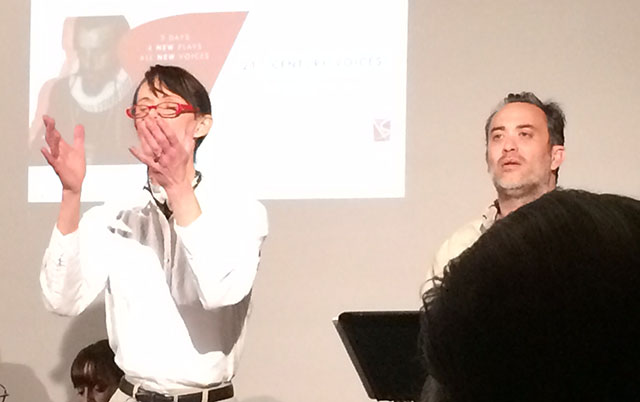 Flying was featured in American Stage's 21st Century Voices series, with a staged reading on March 2, 2017. With Natalie Symons, Ricky Wayne, Eugenie Bondurant, Colleen Cherry and Rich Rice. Directed by Vickie Daignault, stage manager Sadie Lockhart, artistic director Stephanie Gularte.
Flying received a staged reading on December 12, 2016 as part of the Conversation Starters series hosted by Tampa Repertory Theatre and Creative Loafing. With Nicole Jeannine Smith, Dan Granke, Erin Foster, Stephanie Roberts and Jim Wicker, directed by Elizabeth Brincklow.
Flying was recognized as a Semi-Finalist for the 2016 O'Neill Theater Center's National Playwrights Conference and the 2016 Ashland New Plays Festival.
Semi-Finalist, Sky Cooper New American Play Prize 2017
Finalist, Austin Playhouse Festival of New American Plays 2017
Finalist, Florida Repertory Theatre, PlayLab Festival 2017
Semi-Finalist, O'Neill Theater Center National Playwrights Conference 2016
Semi-Finalist, Ashland New Plays Festival 2016
Finalist, Theatricum Botanicum CA, Seedlings New Play Development Workshop 2016
Semi-Finalist, Geva Theatre 2016
Palm Beach Dramaworks Read-A-Thon, May 1, 2016
Selection, The Bechdel Group New Play Reading Series, New York NY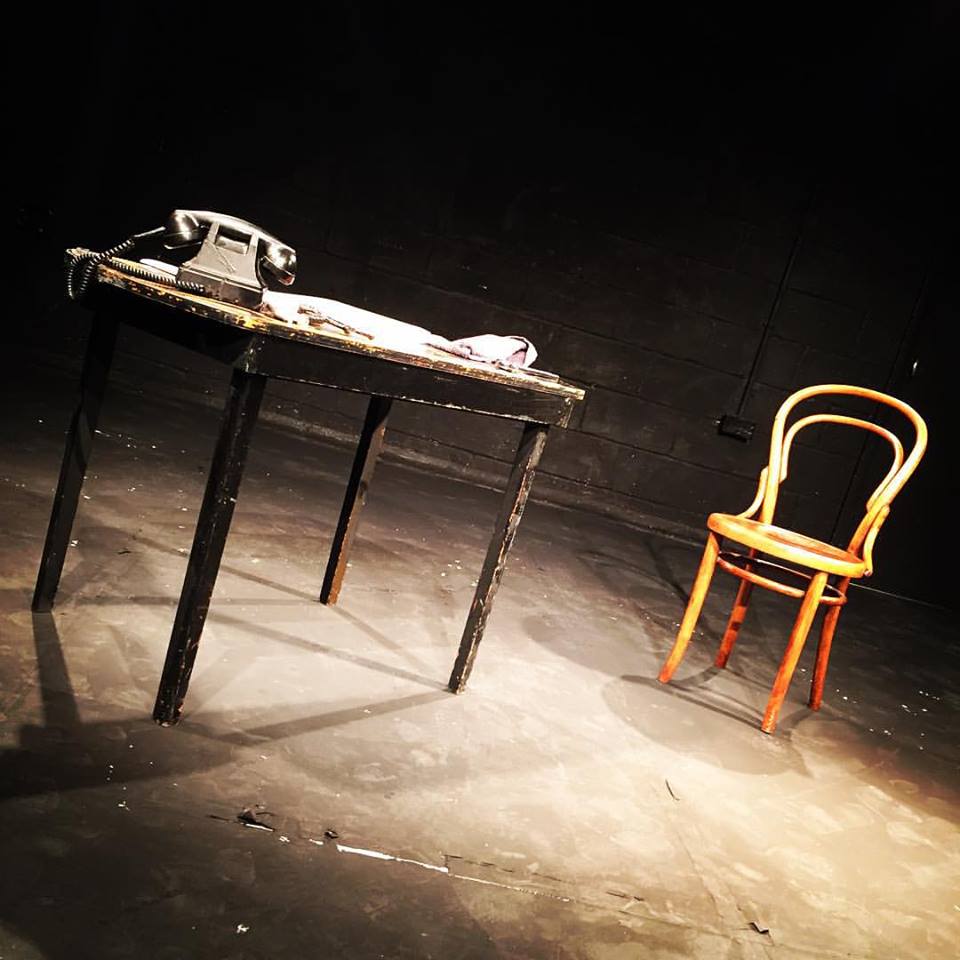 Flying was presented in London through a lovely staged reading by American Actors UK on October 14, 2015 at the Tristan Bates Theatre. With Rachel Fowler, Cornelius Geaney Jr., Kenneth Jay, Katie Michaels and Naomi Peters. Directed by Philippa Douglas and produced by Claudette Williams as part of the 2015 New American Voices series.

Flying had a terrific staged reading at the Equity Library Theatre of Chicago on August 24, 2015 at Chicago Dramatists. With Terry Bozeman, Emily Glick, Joe Lehman, Julie Proudfoot and Thomasin Savaiano. Directed by Molly Burns, Stage Manager Kirstie Smith, Artistic Director Carrie Lee Patterson and a wonderful audience.
The script had a table reading in St. Petersburg FL on Sunday, August 2, 2015. With Eugenie Bondurant, Fanni Green, Jim Rayfield, Jim Sorenson and Lisa Powers Tricomi.
Sections from Act I were workshopped in St. Petersburg FL on Wednesday, February 4, 2015. With Bonnie Agan, Eugenie Bondurant, Steffie Neubauer, Lisa Powers Tricomi and Jim Wicker.
Further sections were workshopped in St. Petersburg on Wednesday, May 27, 2015. With Elizabeth Brincklow, Dan Granke, Johanna Griese, Jim Rayfield and Lisa Powers Tricomi.
The first table reading took place on February 26, 2013 at the University of South Florida.  With Eugenie Bondurant and Jim Wicker, Bonnie Agan, David Frankel, Karla Hartley and Paul Wilborn.