Leeanne and Mark got married in college. Twenty years later, their lives are truly tangled. Mark's a radio reporter, passionate about his work and glad to let Leeanne take care of details. Leeanne is a compassionate eye surgeon specializing in cornea transplants.
Leeanne's in for the long haul, but Mark is ready for a change. He's found that change at work, with Sandra. Mark can't face abandoning Leeanne – and can't stop leaning on her. But Sandra is pregnant, and Mark is on deadline.
When Sandra's out of town and Mark comes home to get the divorce papers signed, Leeanne tries to buy some time. Mark wakes up with his eyes bandaged, believing he's had an accident. Leeanne takes care of Mark and calms his fears, hoping that he'll see how much he needs her.
But when a fellow surgeon stops by, and then Sandra – Leeanne's lies become more real. The glowing past, the thwarted future and a painful present tangle as Leeanne tries to stop time and Mark is forced to change in ways he never thought he'd have to.
Onstage at Charleston SC's lovely South of Broadway Theatre, February 22-March 10, 2018. With Kristen Kos, David Moon, Linda Gish and Rob Maniscalco, directed by Daniel Hall Kuhn. Assistant director Anne Reid, stage manager Corazon Stegelin, assistant stage manager Laura Streit, costume design by Angelique Cunningham, costume assistant Brayden Baucom, set design by Daniel Hall Kuhn, audio and lighting design by Bert Ross, props master Anne Reid and photos by Anne Reid.
Many thanks to South of Broadway Theatre's Artistic Director Kristen Kos, founder and producer Mary Gould and the utterly vital New Play Exchange.  And their very talented graphic designer!
More on the South of Broadway production is at Creative Pinellas. 
Stay premiered at the Wimberley Players in Wimberley TX, September 12 – October 6, 2013.  Artistic Director John Hood, Executive Producer Adam Witko.  The production was directed by David McCullars and produced by Terri Burney-Bisett.  Set design by Scott Wade, lighting design by Bill Peeler, costume designer Mercedes Vaughn.  Sound design by Aaron Johnson.  The stage manager was Katherine Beamer, with assistant stage manager Ryley Wilson.  Purple monster drawings by Ryley Wilson.  
With Deanna Lalich as Leeanne, Aaron Johnson as Mark, Will Mercer as Ben and Leigh Shelton as Sandra.
Stay is a remarkable piece of new theatre.  I had the profound honor to direct the inaugural production, and it was a truly rewarding experience for everyone:  for those in front of the stage, for those on the stage, and for those behind it.  The first thing anyone notices when reading or viewing Stay is its organic, hyperreal dialogue.  While a bit different, it gives this play a unique and memorable voice.  But more important than the writing is a cast of four excellently crafted characters, each with lots of room to interpret and play.  It's all spun together with a dark, intriguing storyline with twists and turns that will conjure memories of Alfred Hitchcock.  –  David McCullars
Interview on KUT Austin 90.5 FM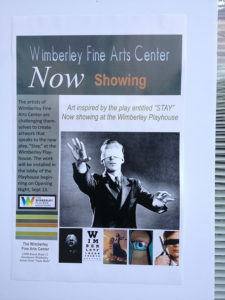 Wimberley Fine Arts Center exhibit video
An early version of this script received a staged reading at the Gorilla Theater in Tampa on October 27, 2009.  Directed by James Rayfield, Managing Director Bridget Bean.  With Eugenie Bondurant, Christopher Rutherford, Nicole Jeannine Smith, Richard DiPietra, Fred Lasday and Bridget Bean.  Many thanks to Fanni Green.
A later version was a Finalist at Playwrights First in New York in 2010.  Another version received a staged reading and won The Players Theatre's New Play Festival in Sarasota, on August 12, 2011.
At different points in its development, the script received feedback from dramaturges Dana Formby and Alice Austen, of the Chicago Dramatists Network.
Sincere thanks to Ed Lehmann, Emily Andren, Eugenie Bondurant, Jim Wicker, Paul Wilborn, David Frankel and Matt Cowley for their thoughts on many different drafts.