Hoping somebody remembers you, even if they mistake you for somebody else.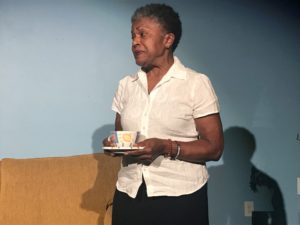 At Andi Matheny Acting Studios in St. Petersburg September 6-8, 2019. With Kristina Janine, Kari Velguth and Gwenda Lynn, directed by Jim Rayfield.
At the Actors' Theatre's 8 Tens Play Festival at Center Stage Theater, Santa Cruz CA, January 6-February 5, 2017. With Hannah Eckstein, directed by Kip Allert.
"Traditionally a sold-out crowd-pleaser."
And part of the Lyons/Summit Ten in 10 Festival,  November 19-20, 2016. November 19 at the Lyons Recreation Hall in Lyons IL outside Chicago, and November 20 at the Summit Park District Recreation Center in Summit IL. With Brenda Gilmore, Tina Matriciano and Jan Novotny, directed by Brenda Gilmore.
Onstage in Fort Lauderdale with Pigs Do Fly Productions' Festival of Short Plays, March 1o-27, 2016.  Finalist, The Parish Players Ten Minute Play Festival 2016.
A staged reading was held June 20, 2015 at Chicago Dramatists, with plays chosen by guest judge Sandy Shinner of Shattered Globe Theatre.  With Roslyn Alexander, Kristie Berger and Wendye Clarendon, directed by Ilesa Duncan of Pegasus Theatre.
A radio version was presented as part of the Radio Theatre Project at the Studio@620 in St Petersburg FL on January 26, 2015. With Eugenie Bondurant, Nancy Cole and Maggie Romigh. Directed by Maggie Romigh. Live sound effects by Matt Cowley.