Hue and Saturation
May 9-10
Windmill Theatre Company
New College, Sarasota
Windmill Theatre Company, the student theatre group at New College of Florida, will be performing Hue and Saturation in a showcase of student actors and directors. Many thanks to the New Play Exchange.
Doors
April 5, 2019
The Palladium Theater
BEACON Dance Concert
Devised by Sheila Cowley, Helen Hansen French and Alex Jones – a story told through movement, about walls between people.
Inspired by paintings of the border wall healing by Ana Maria Vasquez, with sculpture by Mark Aeling, lighting design by Joe Oshry, sound design by Matt Cowley and photography by Tom Kramer.
More here.
---
Air-Earth-Fire-Water
April 8, 2019
USF St. Petersburg, outside the Science Building

So glad to be invited to reprise Air-Earth-Fire-Water on the beautiful campus of USFSP. With actors Eugenie Bondurant and Chris Rutherford. . . Dancers Helen Hansen French, Alex Jones, Samantha Miller and Fernando Chonqui. . . and an original score by viola player A.J. Vaughan. Choreographed by Helen Hansen French and Paula Kramer. Many thanks to Ann Wykell.
More here.
---
Flying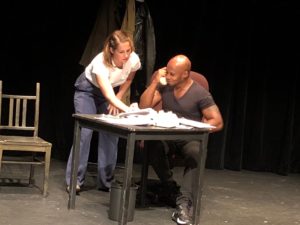 Flying was featured in Urban Stage's Summer Reading series, with a staged reading in midtown Manhattan on July 25.
Flying was one of 5 Finalists for Marin Theatre Company's David Calicchio Emerging American Playwright Prize 2018, and a finalist for Theatre Conspiracy's 2018 New Play Contest. More here.
---
Teatime
An honor that Teatime was one of five scripts to win the British Theatre Challenge 2018 at Sky Blue Theatre. The script was onstage last year in London, Sydney, NYC and Dubai. More here.

---
Many thanks
My grateful thanks to the readers of Creative Loafing, for the 2018 Best of the Bay award for Best Playwright. Many thanks to Creative Loafing's writers, for the Critic's Choice award for Flying, "Best Proof an Old Story Deserves Telling Properly," and awards for both of Tampa Rep's lead actors.

Many thanks to the St. Petersburg Arts Alliance for naming me the city's Literary Muse of 2018. I'm grateful to be part of our wonderful arts community, and to work with so many amazing artists here.