Sheila Cowley is a playwright and audio producer whose work embraces other artforms – creating theatre that celebrates voice, movement, sound, visual art and circus artistry. It's theatre that asks big questions – about gender roles and family, and tiny daily acts of heroism.
"While voice is what drew me to theatre, I'm increasingly inspired by the ways that stories can be told without words, and often should be told without words.
"I thrive on collaborative energy.  It's through the sparks created by exploring ideas with actors, directors, dancers, designers and visual artists,  that I find the paths into each play I write.
"My plays focus on the tensions underneath the masks we wear.  My work explores gender pressures, gender role reversals and the ever-changing parts we play as families shift due to marriage, death and divorce.
"But if I can explore all that with dance and circus, all the better."
The Latest
Excited to continue collaborations with choreographers Helen Hansen French and Paula Kramer on Air-Earth-Fire-Water, a dance-theatre sequence inspired by science and commissioned for the GASP! Fringe Festival on March 16 at the Tampa Museum of Art. With the wonderful actors Eugenie Bondurant and Chris Rutherford, and the amazing dancers Helen Hansen French, Erin Cardinal, Brian Fidalgo II and Alex Jones.
Many thanks to the St. Petersburg Arts Alliance for naming me the city's Literary Muse of 2018. I'm grateful to be part of our wonderful arts community, and to work with so many amazing artists here.
It's an honor to be chosen to serve as a Professional Artist Fellow this year by Creative Pinellas.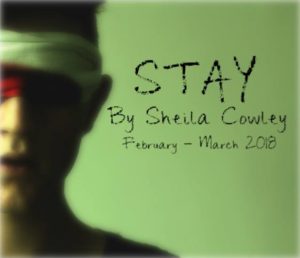 Delighted that Stay is onstage at Charleston SC's South of Broadway Theatre, a beautiful production February 22-March 10, 2018. Many thanks to Artistic Director Kristen Kos, and the vital New Play Exchange. Kristen is utterly amazing in the lead role.
Cheers to all the wonderful writers who joined me for a workshop at the theatre on Some of the Business of Playwriting.
So fortunate that The Burlesque Astronomy Play will be featured in Phoenix Theatre's Festival of New American Theatre 2018, with a weeklong workshop and two staged readings, March 9-10 in Phoenix AZ, directed by William Partlan.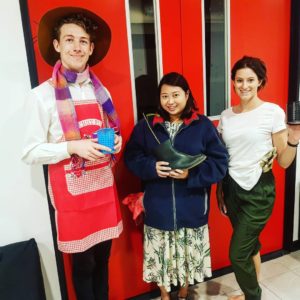 A thrill that Teatime is part of the Short+Sweet Festival in Sydney, Australia, Short+Sweet Dubai and onstage at T. Schreiber Studios in New York City, as part of the Schreiber Shorts Festival. Many thanks to the Association of Theatre in Higher Education's New Play Development workshop, and the wonderful creative folk who helped me discover the world of that play.
Getting ready for Trio's world premiere in April spring at Austin TX's bold new Filigree Theatre! Directed by the wonderful Elizabeth B. Newman.
My thanks to the St Petersburg Arts Alliance, whose grant program funded an exciting workshop of Trio with Becca McCoy, Derrick Phillips and Chris Rutherford and dancers Helen Hansen French, Crystal DelGiudice and Sean McDonald. Directed by Elizabeth Brincklow and choreographed by Paula Kramer with spectacular deaths and swordplay by Dan Granke at The Studio@620.
Thank you to Julie Garisto and Creative Pinellas for including Flying on "2017 Best in Shows – A Year of Collaboration" – a pretty incredible list of visual, literary and performing arts events in our home county.
Many thanks to Creative Loafing Tampa for naming Flying's Tampa-St Pete production as one of The 10 Best Arts, Culture and Entertainment-y Things of 2017.
–  –  –