Sheila Cowley is a playwright and audio producer. Her work combines vivid conversation, sound and movement.
"While voice is what drew me to theatre, I'm increasingly inspired by the ways that stories can be told without words, and often should be told without words.
"I thrive on collaborative energy.  It's through the sparks created by exploring ideas with actors, directors, dancers, designers and visual artists,  that I find the paths into each play I write.
"My plays focus on the tensions underneath the masks we wear.  My work explores gender pressures, gender role reversals and the ever-changing parts we play as families shift due to marriage, death and divorce.
"But if I can explore all that with dance and circus, all the better."
The Latest
So glad that Flying's production by Tampa Repertory Theatre was a hit with audiences in Tampa and St. Petersburg FL, at HCC Ybor's beautiful Performing Arts Center and The Studio@620.
Audience comments include, "Refreshing to experience an original work and witness humanity performed on stage" and "Sheila Cowley never fails to make me think and laugh and cry, sometimes all at once, through the voices of characters that hit close to home from a past not so far away."
Honored to be asked to write a short piece inspired by a painting by Murray Zimiles for a timely event hosted by Keep St Pete Lit and the Florida Holocaust Museum. Fire Dance was part of an amazing event on October 14. So many thanks to the wondrous actor Fanni Green and the fabulous dancer Paula Kramer, both of whom I love to work with.
Thrilled that Trio will receive its world premiere next spring at Austin TX's bold new Filigree Theatre. My thanks to the St Petersburg Arts Alliance, whose grant program funded an exciting workshop of Trio with Becca McCoy, Derrick Phillips and Chris Rutherford and dancers Helen Hansen French, Crystal DelGiudice and Sean McDonald. Directed by Elizabeth Brincklow and choreographed by Paula Kramer with spectacular deaths and swordplay by Dan Granke – and a wonderful performance for an enthusiastic audience at The Studio@620.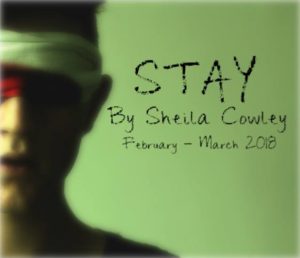 Delighted that Stay will be onstage at Charleston SC's lovely South of Broadway Theatre, February 22-March 10, 2018. Many thanks to Artistic Director Kristen Kos, and the vital New Play Exchange.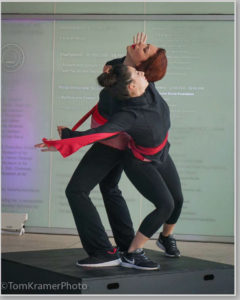 The exciting collaborations with choreographer Paula Kramer, actor Becca McCoy and dancer Crystal DelGiudice, I'm Here, opened the Gasparilla Fringe Festival with pizzaz, thanks to Becca and Crystal's spectacular performance. Commissioned for GASP! and inspired by a striking photograph by Australian photographer Krystle Wright currently on display at the Tampa Museum of Art, the project was my first experience working with dancers and experiencing all the fluid ideas fearless dancers have about space and possibilities. You can see the striking visuals caught by dance photographer Tom Kramer, and the incredible video Crystal and Becca shot just minutes after they were introduced.
–  –  –