Doors
April 5, 2019
The Palladium Theater
BEACON Dance Concert
In rehearsals with Helen Hansen French and Alex Jones for Doors – a devised story told through movement, about getting through, around and over walls.
With original sculpture by Mark Aeling and paintings by Ana Maria Vasquez. Lighting design by Joe Oshry, sound design by Matt Cowley.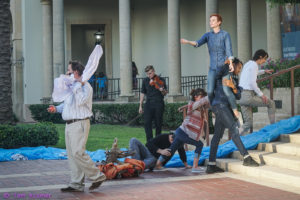 Air-Earth-Fire-Water
April 8, 2019
USF St. Petersburg, outside the Science Building

So glad to be invited to reprise Air-Earth-Fire-Water on the beautiful campus of USFSP. With actors Eugenie Bondurant and Chris Rutherford. . . Dancers Helen Hansen French, Alex Jones, Samantha Miller and Fernando Chonqui. . . and an original score by viola player A.J. Vaughan. Choreographed by Helen Hansen French and Paula Kramer. Many thanks to Ann Wykell.
Airlift
Saturday, September 28
on the steps of the Museum of Fine Arts, St. Petersburg
A play for one actor and an unlimited number of visual artists, developed in collaboration with the member artists and good folk at Creative Clay.
With Lisa Powers Tricomi, choreographed by Paula Kramer, with original music by A.J. Vaughan, designed by Allen Loyd. Many thanks to Kim Dohrman, Marcy Miller and Fanni Green.