The Latest. . .
My grateful thanks to the readers of Creative Loafing, for the 2018 Best of the Bay award for Best Playwright. Many thanks to Creative Loafing's writers, for the Critic's Choice award for Flying, "Best Proof an Old Story Deserves Telling Properly," and awards for both of Tampa Rep's lead actors.
Thanks to a Creative Pinellas 2018 Professional Artist fellowship, we got a chance to workshop Madness at The Studio@620, with 7 actors, 4 dancers, 2 onstage musicians improvising score and sound effects, and 3 visual artists involved in the set. Directed by Dan Granke, Choreographed by Paula Kramer. With Matthew Frankel, Eddie Gomez, Susan Haldeman, Tonia Krueger, Jan Neuberger, Stephanie Roberts and Jim Wicker as our actors, Ethan Barbee, Crystal DelGiudice, Helen Hansen French and Deisha King as our dancers, music by Tom Sivak and Matt Cowley, the set suggested by visual artist Kenny Jensen and featured artwork by Coralette Damme and Ana Maria Vasquez. Photos by Tom Kramer.
Glad to be part of the St Pete Arts Alliance's annual SPF Festival, with a free performance of Air-Earth-Fire-Water on the steps of the Museum of Fine Arts, Thursday, October 25 at 5:30 and 6:30 p.m.
Honored that Flying was featured in Urban Stage's Summer Reading series, with a staged reading in midtown Manhattan on July 25. Flying was one of 5 Finalists for Marin Theatre Company's David Calicchio Emerging American Playwright Prize 2018, out of over 500 submissions. And a finalist for Theatre Conspiracy's 2018 New Play Contest, out of 600 submissions.
An honor that Teatime is one of five scripts to win the British Theatre Challenge 2018 at Sky Blue Theatre. The script was onstage this year in London, Sydney, NYC and Dubai.
Hue and Saturation will be onstage May 9 & 10, 2019 at New College in Sarasota, produced by Windmill Theatre Company. The play debuted during Changing Scene Theatre Northwest's Summerplay 2018 Festival, and was onstage at Florida Atlantic University's Theatre Lab on January 5, 2019.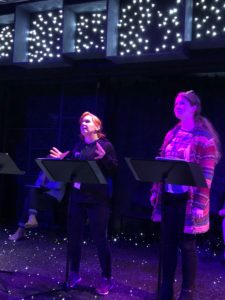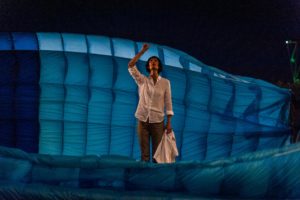 Air-Earth-Fire-Water is a  thrilling collaboration with choreographers Helen Hansen French and Paula Kramer, actors Eugenie Bondurant and Chris Rutherford, dancers Helen Hansen French, Alex Jones, Erin Cardinal, Brian Fidalgo II and viola player A.J. Vaughan – a dance-theatre sequence inspired by science and commissioned by Creative Loafing Tampa for the GASP! Fringe Festival 2018 at the Tampa Museum of Art. A gorgeous performance and a thoroughly fulfilling experience.
Air-Earth-Fire-Water had a beautiful and blustery performance kicking off USF St Petersburg's inaugural Theatre Week on their lovely waterfront campus. . . on the steps of the Museum of Fine Arts in downtown St. Pete as part of the SPF Festival. . . and we flew parachutes inside The Studio@620.
Maren Mascarelli, directed by William Partlan, with dramaturg Kirt Shineman, stage manager Alex Koszewski and many thanks to festival director Robert Kolby Harper.
Many thanks to the St. Petersburg Arts Alliance for naming me the city's Literary Muse of 2018. I'm grateful to be part of our wonderful arts community, and to work with so many amazing artists here.
– – –